20th July,2019: SJIS launched an extensive Plantation Programmee on the occasion of the World Environment day in different parts of the school & outside the adjacent area of the campus. In order to restore eco-balance, the afforestation drive was taken with all seriousness.The students planted saplings & watered the plants.
---
Save the birds Campaign
In today's times, when "Environment Protection" is a glaring global issue, SJIS sensitizes its students towards the environment by involving them in activities that help save the natural order of our earth. We create projects for children to learn, understand and spread awareness towards environment protection
In the month of January every year, students of SJIS organize Save the birds Campaign to spread awareness about the harm caused by kite strings to birds and commuters. They do this by enacting roadshows and showing films to people.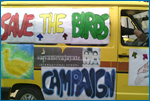 ---
Celebrating Eco Friendly Holi by making Organic colours. SJIS has developed educational tools to teach children simple ways of making their own natural Holi colours and as a part of Entrepreneurship Curriculum they sell the organic colours. The students spread the words of ill-effect of the usage of chemical colours to the society during the rally.